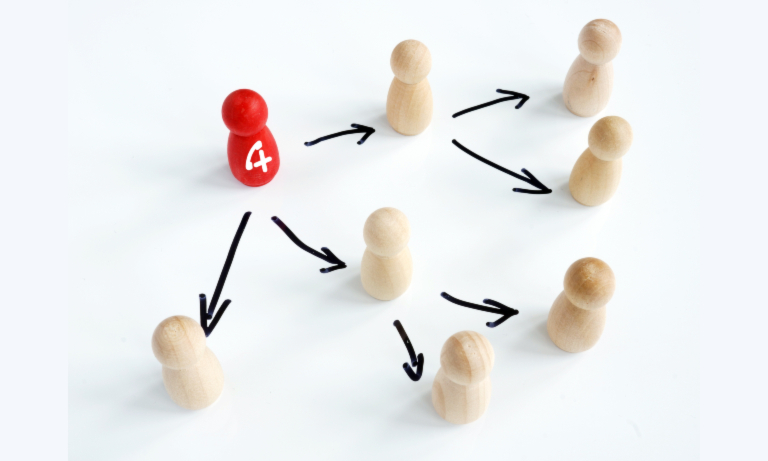 Customer Service: Pros and Cons of Outsourcing or Delivering In-house
---

When many companies set up or review their customer service operations they look inwards, assessing cost of service delivery, call volumes, call-to-sale conversion rates and so on – but the most effective models are built around the needs of the customer.

In this article our focus is first and foremost on customer service from the point of view of a consumer.


Is dedication what you need?
In today's world of 'easy' access to online information, companies may question the need to offer a fully responsive, round-the-clock customer service department. However, a recent survey of over 1,400 online shoppers showed that the preferred method for contacting customer services was through a telephone conversation with a 'live' customer service agent.

Evidence also reminds us that it's not enough just to have your customer service team available – they need to be great at what they do. An Ofcom report on 'Consumer Experience', cited 'poor service' as the second biggest reason for people considering changing their mobile or fixed broadband provider.

Customer behaviour may even be affected in instances where people have had no personal contact with a company, but have simply heard about problems. Consumer organisation Which? found that 61 per cent of people said they had avoided a company because of its bad customer service reputation.


---
Business losses caused by bad customer service

---
£7.7billion a year
cost to UK companies
---
---
£2.3billion a year
cost to banks of savers
switching accounts


---

Top ten customer service handling complaints
A Which? survey asked people about their customer service handling complaints. The results showed that call handler behaviour was right up there with infrastructure and processes in the top ten problems.
Automated telephone systems
Long queues
Being passed around lots of people
Trying to sell you unwanted products
Annoying hold music
Receiving a standard response to problems
Lack of knowledge about products or services
Having to wait for help or a response
Rude staff
Staff talking to each other

Some of the key frustrations expressed above include speaking to a machine rather than a person and staff who can only offer a standard response, have a lack of knowledge, or are rude. These all underline the need for a fully professional, well trained and responsive customer service team.


Call handler behaviour can affect personal recommendations
Results from a National Survey clearly demonstrated that people's experience of customer service affects whether or not they recommend a company to others.

From June 2018 the percentage of people finding business receptionists helpful fell continuously, while those saying they probably or definitely wouldn't recommend the business rose: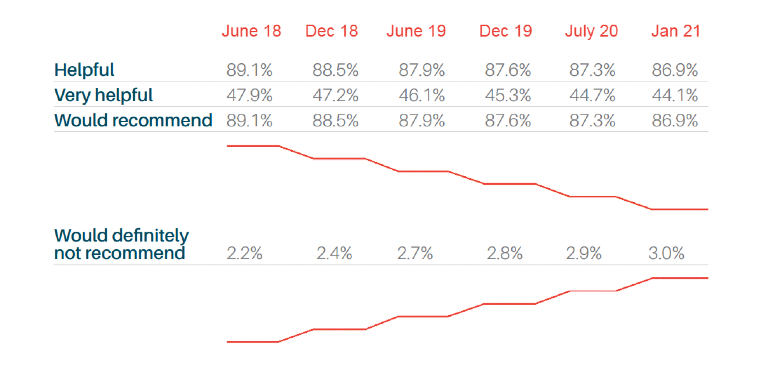 Getting the team right
Accepting the arguments for needing dedicated customer service, it is also clear that the service will only be a benefit if it is well run and effective. Whether a customer service team is outsourced or employed in-house, they will and should be judged by customers against the same high standards.

We highlighted above that three of the top ten customer service complaints are directly related to the skills and attitudes of customer service staff – lack of knowledge, being rude, and talking to each other.

We also showed that the helpfulness of customer service staff can directly impact on personal recommendations and the likelihood of gaining new business through word of mouth.

These are all key issues to keep in mind when selecting, training and retaining employees or outside specialist providers. They also make the capacity to both run and effectively performance manage a team an important consideration when looking at the best way to deliver customer service.

For companies that choose to provide their customer service function in-house there are day-to-day challenges to meet – ensuring shifts are covered with the right number of people to cope with any spikes in demand, taking into account sickness and annual leave, and ensuring maintenance of the physical infrastructure and computer systems.
(These issues are covered in more detail later in this article.)


However, just as important are the ongoing tasks of staff recruitment, training and retention. All of these are a cost for a company which chooses to employ in-house staff – and in many ways, a cost where it's impossible to predict the bottom line.

The National Careers Service job profile for a telephonist or switchboard operator shows the role has no specific entry requirements and is considered appropriate for young people at the beginning of their working life. It also says most applicants can expect on-the-job training and encouragement to take relevant qualifications.

So while the salaries may be relatively low it's clear that companies need to commit to a high level of investment in entry level employees to develop an experienced, effective team that can deliver great customer service.

It may be fairly straightforward to recruit new starters, but in 2020 around one in three workers in the UK were planning to look for a new job. While remuneration remained the leading factor for people changing jobs, coming a close second and third were a lack of advancement opportunities and boredom. This supports the evidence that to hang on to good people, companies need to offer both a clear career path and job satisfaction.

The average employee turnover rate in the UK is approximately 15 per cent a year. While high turnover may not be a bad thing where staff aren't coming up to scratch, it can mean losing valued and experienced people. A high turnover will also lead to high recruitment costs as companies constantly search for – and then train – new staff.


Outsourcing your team
Outsourcing to a reputable external provider can save the headache of all the issues surrounding getting a team in place and managing it on an ongoing basis. However, anyone considering this option should be prepared to invest adequate time at the beginning of the process, undertaking a thorough assessment of the market and a detailed tender process, to ensure the provider they select is right for them.

They then need to take the standard outsourcing steps of agreeing key performance indicators (KPIs) and service level agreements (SLAs), as well as detailed scripts to be used and escalation processes needed. They also need to facilitate IT system integration and confirm authority levels for their partner to work within.

Setting and managing authority levels are hugely important because the provider will often be working outside of your standard working hours and as such will not be able to access your immediate support and guidance if queries arise.

The provider should then train their teams to deliver the service in exactly the way that has been agreed, and will ensure any new staff receive the same training and that standards are maintained. They will also report back on the agreed KPIs to give assurance that the team is delivering as it should and the service level agreement is being met.


Offering support when customers want it
We live in a culture of 24-hour consumer demand, but we all work to a different 24 hours. The global internet revolution means that customers may be anywhere in the world – and their waking hours, when they want to contact you, may well differ from yours. Standard opening hours are no longer so 'standard'.



On-demand
Not only do customers make positive choices about when they want to use a service; there is also evidence that businesses which don't make themselves accessible 'out of hours' can make life more difficult for their customers. 48 per cent of people making personal use of communications technology during work time say there's sometimes no choice due to opening hours.

Clearly people are no longer willing to fit into someone else's schedule and are now accustomed to getting what they want, when they want it. It's becoming increasingly important for companies to be able to deliver around the clock.

Case Study
Call fluctuations for an individual client and the implications for a call handling specialist...
The client: Provider of domestic heating services; utilises call answering support from Answer4u from 7am to 8pm Monday to Friday as overflow support to their own internal call centre operations.

The figures: Comparing call volumes received in 30 minute intervals, averaged over a 14-week period. The 'highest' figure refers to the maximum number of calls received within that time slot on an individual day within those 14 weeks.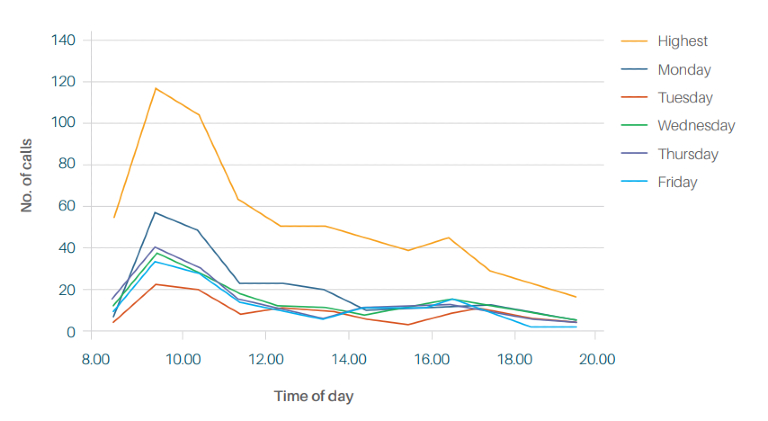 The figures show that while there is a pattern to the fluctuation over the week, the highest numbers of calls experienced for each time slot can be well above the average, meaning that if a company was to plan to cover the average number using only in-house staff, it's likely that they wouldn't have the capacity to answer all the calls coming in all the time. The highest number of calls received between 9am and 9.30am in one instance is double the average for that time slot.

The graph also shows that the peak time for calls lasts just two hours. Few dedicated, experienced staff would be willing to work a two-hour shift but paying for longer shifts to ensure the peak time is covered is an additional cost that could be avoided by outsourcing the work. Even if an in-house team could be set up in such a way as to have extra staff available to cover specific peak times, any unexpected spikes at other times or over a longer period could cause problems and delays in answering calls.

Reputable call answering services ensure they have enough call handlers in place to deal with peaks in call volumes for individual companies. At Answer4u, we use statistics such as these, plus historical data related to marketing campaigns carried out by clients, to predict the call numbers and patterns of each client on a 30-minute basis every hour of every day. This enables us to make sure the optimum number of staff are available to answer the calls at all times, allowing us to offer a level of flexibility that is simply not possible for an in-house team.


Online access may not be as 'easy' or popular as you think
While broadband and internet connections are growing across the UK and many customers do have 'easy' access to online information, there is still a large minority of people who don't have online access – or simply prefer to use the phone rather than email or the internet.

Online access in the UK (Source: various Ofcom reports)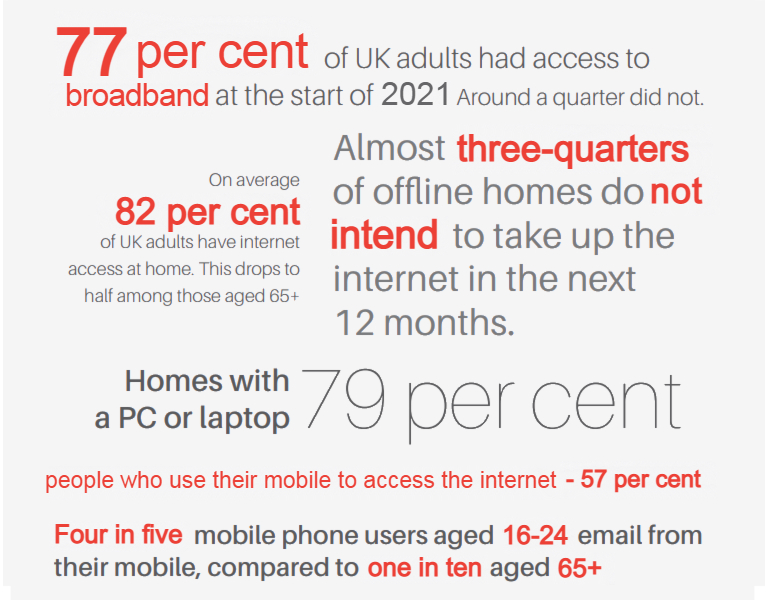 With access to the internet not being guaranteed, to reach all your potential customers it makes sound business sense to give them the options they want for getting in touch. Confining customer service contacts to electronic communications will restrict a business's market.

A commitment to deliver
Setting up a customer service in-house from scratch – and then extending it to provide 24-hour coverage – and maintaining and upgrading it, requires a big commitment and high levels of investment:
Telephony
IT Infrastructure
Networking
CRM / Payment Systems
Resilience (back-up systems)
Workstations
People and Training
Customer service opening times should apply to both phone calls and emails, with customers receiving the same quality of response however they choose to make contact and at whatever time of day or night they choose to do it. This means that no matter what happens (including floods, fires, power cuts, road closures affecting access, spikes in staff sickness, a burglary or other loss of equipment, an equipment breakdown, a problem with making deliveries – or simply a public crisis that causes an influx of calls from worried consumers) your customer service team needs to have the right number of people on hand and kit that is guaranteed to work.


The Royal Association of Engineers has stated that, should the electricity supply go down in 'a severe and widespread' way (affecting the vast majority of the UK including major cities for at least 12 hours during a weekday), it could cost the economy billions of pounds.

While a nationwide blackout is unlikely, and the UK hasn't experienced serious interruptions in its power supply for over 40 years, severe winter weather has historically affected homes and businesses across the UK, with more than 5,000 reported properties flooded in one recent year.

Some companies invest in providing all the necessary equipment and manpower to provide a resilient solution in-house, while others choose to use an external provider which already has the necessary technology and teams in place. A scalable or modular outsourcing contract can also be part of the solution to provide capacity and assurance whilst controlling costs, with the business only paying for the support used each month.

Outsourcing can also offer invaluable support in cases where an in-house team is not able to keep up with the rate of growth in demand that is often seen once a company starts offering a better service. Or it can provide a seamless solution for covering additional hours to extend the service. Rather than allowing a drop in quality as the team struggles to respond to all the enquiries, a company can either outsource overflow calls and emails, or they may ask the external supplier to cover those times that are causing a resourcing headache.

Conclusion
Given the proven importance of customer service, whether it is delivered through an outsourced or in-house team, the key is to truly integrate a dedicated department into the business model and processes.

A team that sits on the outside (either metaphorically within your own building or with an external supplier that doesn't work closely with you), could do your business more harm than good. (Figure 1).
Figure 1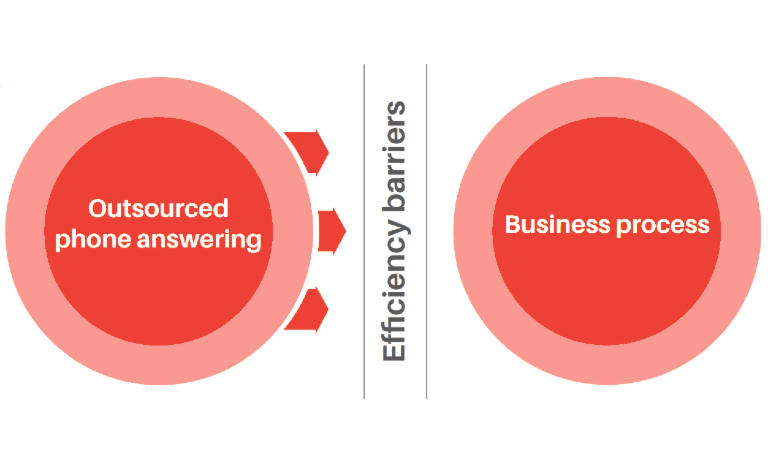 Figure 2 brings the discussion points above together to demonstrate how integrated outsourced customer service can bring added benefits to a business.
Figure 2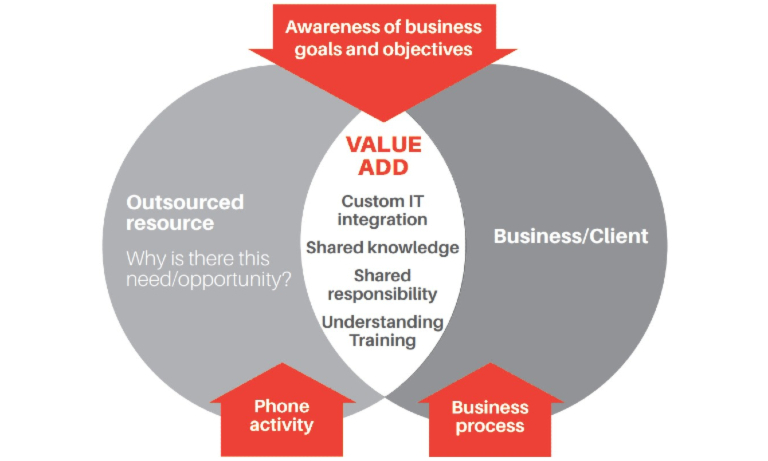 The customer service team is not there to support your business
- it is the heart of your business.

To sum up the issues:
Who?
Considerations
Solutions
Your Team
Recruitment

Staff on-hand who are fully trained in how to answer calls using an agreed script, FAQs and escalation options.


Training
(skills and behaviours)

All call handlers receive intensive one-to-one telephone answering and email management training followed by ongoing support and remote monitoring.


Retention

A career pathway on offer.


What?
Considerations
Solutions
Your services and
how people can access them
A range of routes into the customer service team

The same level of service offered via phone, email and online forms.


A range of services to deliver on customer needs


Customer service integrated into wider operations:

Reception and switchboard
Email support / handling
Diary management
Helpline services
Order taking / e-fulfilment
Business continuity and crisis support



When?
Considerations
Solutions
Hours of coverage
that you will offer
Resourcing coverage for the hours you choose to offer

Employ or outsource extra capacity for when you need it, whether that's just out-of-hours or at peak times to help handle heavy call volumes.

Forward planning to cover staff sickness or annual leave, unexpected spikes in demand or predicted increased call numbers thanks to marketing campaigns.


Crisis response

A business continuity plan in place - and regularly reviewed. Re-routing of geographic numbers and email accounts to alternative locations included in the plan, so that if the building is not accessible or the lines go down, calls and emails can still be answered.


How?
Considerations
Solutions
The technical
aspects of running a
customer service
Investment in telephony and computer systems

Investment in the necessary telephony equipment, or outsourcing to a call and email answering company that has already done so.


Investment in back-up systems

Multiple internet connections and telephone lines from various separate providers to ensure no disruption to service. Two independent mail servers.

Full power backup for all systems and an on-site diesel generator on permanent standby.

A system in place to deploy home workers to ensure service is unaffected in a crisis.



While our focus has been on 'experience' and 'behaviour' in this article, we also understand the business needs of efficiency, cost and return on investment, and the need for services that make complete financial sense.

A team that offers a great customer experience but at a financial cost that isn't sustainable is just as bad as a poorly performing customer service function that loses business for a company.


About Answer4u
Answer4u is a specialist business process outsource partner, with more than 20 years' experience of working with companies across a multitude of industries. Our professional call handling abilities are backed by proven skills in developing and executing custom process workflows that either replace or complement existing systems.

Our solutions allow companies to expand their range of service provision, meet fluctuating demand from both internal and external clients and keep overheads to a minimum. Guaranteed 24-hour coverage from a professional and dedicated team is delivered using the latest call and processing hardware and software, to support businesses to the highest levels.

Every member of the Answer4u team receives a minimum of eight weeks of initial training to ensure they reach our high professional standards, plus an approved training programme on each client's individual requirements.

Our customer service team work with clients throughout the implementation process, with a dedicated account manager leading the project from conception through to delivery and providing a constant point of contact throughout the lifetime of the contract.
To find out more about how Answer4u's
offering could improve both your efficiency and
your customers' experience,
contact us today on
0800 822 3344



Comment and Get in Touch Below
Actionable business & marketing advice straight to your inbox