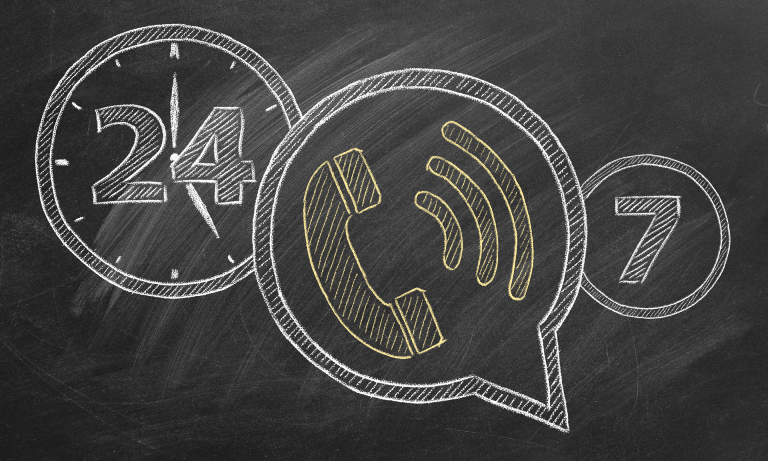 4 Common Questions We Get about Our 24-Hour Call Answering Service: Answered!
---

Despite the surge in popularity of emails and digital forms of communication, many customers still prefer the personal nature of telephone calls, particularly when making an initial enquiry with a company. A phone conversation can provide far more insight into a business's services – the product knowledge or attention to the customers' needs. A personal call is also a great way to establish a professional rapport from the start with new customers, and improve customer loyalty/retention rates with established customers.

Inevitably, many customers are put off by poor customer service, particularly at the initial enquiry stage. In research, a staggering 98% of respondents admitted that poor phone skills leave a bad impression, while over three-quarters say that they will not call back if their first call goes unanswered.

You obviously can't work every hour of the day but, with more consumers expecting round-the-clock service from their favourite businesses, can you afford for your competitors to profit at your expense?
24 7 call answering service: your key questions answered!
A bespoke after hours call answering service offers a simple but invaluable way to ensure that calls never go unanswered at any time of day. If you're considering out of hours call answering, the following frequently asked questions will help you understand how Answer4u could benefit your business:
1. What if my business doesn't have a phone number?
No problem! At Answer4u, we can provide you with a telephone number to advertise to your customers from our extensive portfolio. You can choose a specific area dialing code or a Freephone 0800 number to attract even more interest in your brand. If we provide you with a number, our professional telephonists will receive and handle all calls on your behalf. If you wish to gain full and permanent ownership of the telephone number we provide then we can arrange that for you at any time.
2. Can I retain my existing telephone number or even source a new number myself?



Yes, you can retain your existing telephone number even when using our after-hours telephone answering service. We recognise that to change your existing number could be problematic, particularly if you have an established customer or supplier base who are familiar with it. If your business has multiple phone numbers, simply divert any or all of these to the unique divert number we'll provide to ensure that no calls are missed. You can also source a new telephone number from a third-party supplier of your choice and simply divert the number to us when we are needed. There's no restrictions whatsoever when using Answer4u.


3. Can I still answer calls?
If you have telephone numbers that you have full control over, there will be times when you'll prefer to answer calls, even outside usual office hours. With Answer4u, you can take full control of your calls whenever you wish. Activate your call answering service by simply entering a code into your phone and deactivate it similarly. You can also choose to divert calls at any time of day if your line is engaged or after a certain number of rings, ensuring that no customer is cast adrift.


4. Are there extra fees for out of hours calls?

At Answer4u, we offer straightforward fixed price plans that don't charge you extra for out of hours or bank holiday call answering. Instead, you can enjoy 24/7 service, 365 days a year, to ensure that every customer receives a responsive, friendly answer when calling your business, even when your staff are unable to take calls.


Ready to switch to out of hours call answering?

To find out more about Answer4u's telephone answering services, feel free to get in touch and one of our specialists will be delighted to help you.


Please give us a call
to discuss your options
0800 822 3344


Comment and Get in Touch Below
Actionable business & marketing advice straight to your inbox