Small business owners can have a tough task ahead of them – the prospect of reaching potential customers without the comfort of a hefty marketing budget has never been easy.

Thankfully, there's a handful of really useful business tools available that will make it easier to run your business, help you connect with new prospects and best of all, convert them into loyal paying customers.

Here, we list six tools we recommend that all small businesses should consider:
---
1. Customer Experience Tool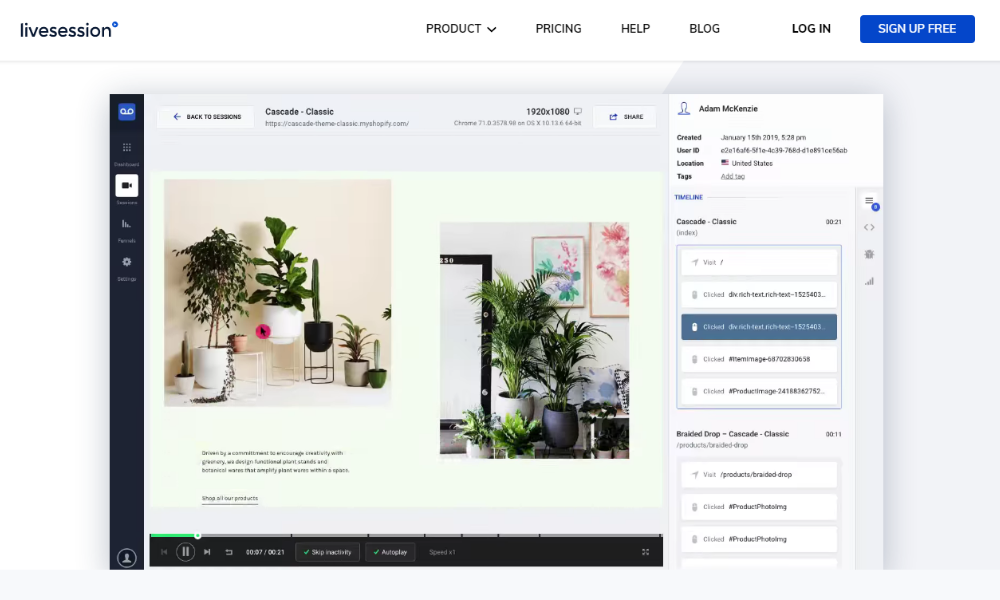 The Fastest way to understand a customer's digital experience
Digital marketing has changed a great deal over the past few years. Not so long ago, it was enough to create and publish a piece of great content online and await an inevitable positive response. Not anymore.

Now, personalisation is considered key to any great marketing campaign. But how can small businesses personalise their content marketing?

By understanding customer behaviour and experience. Because knowing 'what' the customer wants isn't giving marketers all the answers they need - we also need to know 'why' and 'how'.

Understanding customer behaviour has never been easy, but gaining insights into these important aspects will help bring your brand closer to the very customers you are looking to actively attract.

Which is why using a tool like LiveSession, that analyses customer behaviour, can prove to be a real advantage for small businesses.

LiveSession allows you to study a user's journey on your website by creating recordings of individual sessions.

You can then examine which areas users spent the most time, where they got stuck, and why they potential bounced and left the site (very likely moving on to visit a competitors website)

These are all incredibly important details to consider when you are aiming to improve the navigation or overall structure of your website and the very content that will appeal to its users.

But more than that, it helps to create much-needed market segmentation so you can create a truly personalised and unique experience for every individual user.
LiveSession Pricing
LiveSession offers four levels of pricing:

- Micro - $49 (£38) per month
- Starter - $99 (£77) per month
- Startup - $199 (£155) per month
- Scale - $299 (£233) per month

(-15% discount for annual payment available)
---
2. Contest Tool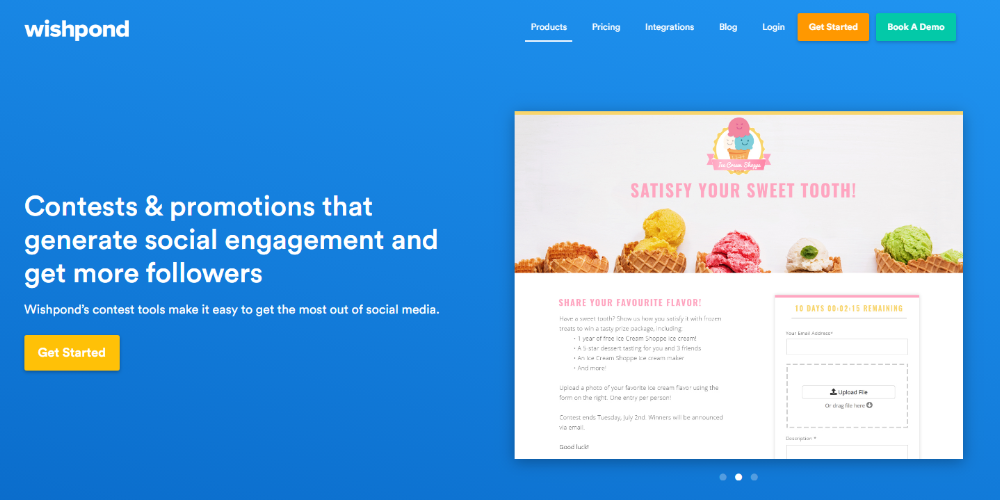 Contests & promotions that generate social engagement and get more followers
Popular social media platforms we all know and use daily on a personal level can also be considered a powerful and necessary marketing channel for many small businesses. But if there's one thing business owners will learn very quickly, it's that user engagement is hard to come by.

There's a great deal of content available on social media - from small businesses, large businesses, influencers, and individuals. It is a crowded sphere and it has become increasingly difficult to get your message heard amongst the noise.

The time required to create a consistent stream of high-quality content to receive the desired level of engagement isn't the only barrier for small business owners, there's also the spiralling costs of content promotion or amplification to consider.

Without the luxury of a sizeable audience of active social media followers, businesses will find it difficult to achieve 'free' organic reach, and many small businesses simply don't have the means to boost or sponsor posts, nor create ads, to help reach more people.

So, how can small businesses rise above this particular challenge? By creating content that users will flock to. And it's possible if you make use of the right content tool.

Small businesses can use a tool like Wishpond to create social media contests - these are guaranteed to get you more engagement.

Wishpond helps you create attractive yet simple contests - such as sweepstakes, hashtag contests, photo contests, and vote contests, among many others.

These are easily created in a few steps and always look stunning and professional.

Engagement will never be a problem again.
Wishpond Pricing
Wishpond has three pricing levels (Billed Yearly)

- Starting Out - $49 (£38) per month
- Everything You Need - $99 (£77) per month
- Rapid Growth - $199 (£155) per month
---
3. Design Tool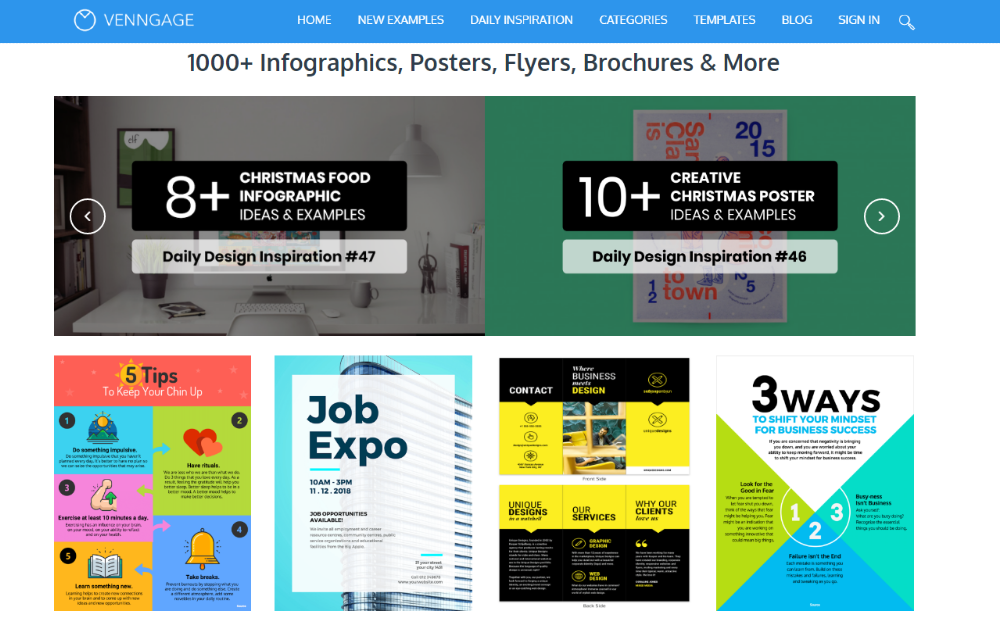 Tell your stories and present data with infographics
We have already alluded to the fact that the internet is overloaded with content.

Social media posts, videos, blogs, articles, emails, digital flyers and posters, are everywhere. These are all considered content but at the same time cannot all be considered equal.

There's little doubt that high-quality content that both successfully meets a specific need or answers a common question of the reader and is visually appealing is content that is still considered valuable. Small businesses that do not have the resources to advertise need to create great content that looks fantastic!

But how do you make your content stand out from the crowd? By using attractive, one-of-a-kind graphics.

This is easier said than done—graphic designers can often be expensive, even if they are working on one-off projects. A design agency is even harsher on a small budget.

That is why you need an online tool that will help you create great graphics without hurting your pocket.

Venngage offers everything from infographic templates to poster templates to a fishbone diagram template. In other words, this tool covers all your graphic design needs.

The highly customisable templates allow you to design creatives for your needs.

Plus, the tool includes a brand kit option where you can upload your branding guidelines to be applied to all your designs.

Boost your content with beautiful visuals and you can make an impression even in the crowded content arena.
Venngage Pricing
Venngage has a three-tier pricing system for businesses:

- Free Plan
- Premium - $19 (£15) per month
- Business - $49 (£38) per month

(-12% discount for quarterly payment, -20% discount for annual payment)
---
4. Email Marketing Tool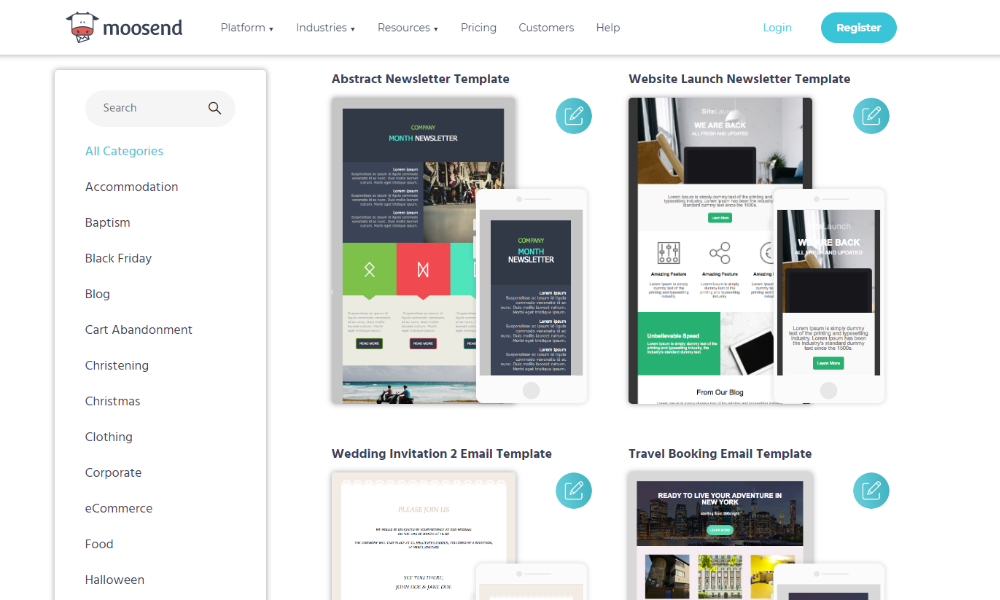 All the benefits of email marketing minus the coding
Email marketing has a proven track record of providing the best ROI for many businesses -people are more likely to visit your website and make purchases from prompts in an email than from social media posts or even blogs.

Small businesses need to get in on the email marketing action if they want to get the most bang for their buck.

But because of the popularity of email marketing, every brand is sending emails to their customers, many of whom are also your customers.

This bombardment of emails makes it very difficult to stand out from the crowd and create an effective email marketing strategy.

Fortunately, you can use email marketing software like Moosend to simplify your strategy and automate the majority of the process.

Moosend offers email templates that can be personalised, as well as a drag and drop editor for ease of use.

You get advanced analytics on your emails as well as the ability to create segmented lists.

With email marketing platforms like Moosend, your email strategy can become simpler to implement and become more effective.
Moosend Pricing
Moosend's pricing system is based on the number of subscribers you have:

- Up to 1000 subscribers - Free
- Up to 2000 subscribers - $10 (£8) per month
- Up to 3000 subscribers - $20 (£16) per month
- 3000+ subscribers - $30+ (£23+) per month
---
5. Project Management Tool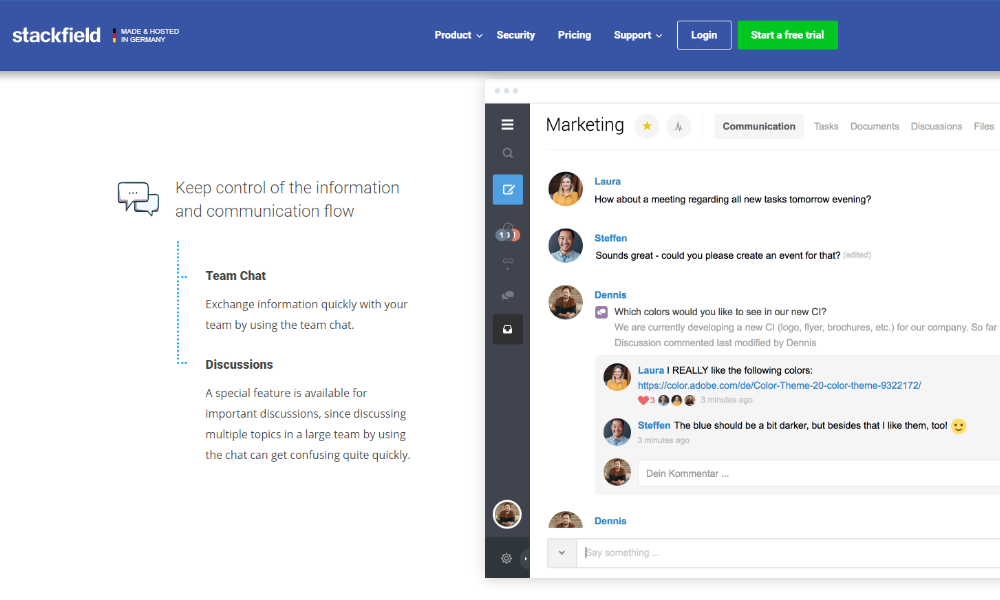 Tools your team needs to work securely and to be highly productive
Project management used to be done on Excel sheets and through emails. But that was a hassle when the project was being conducted by employees in the same office.

Now, with the rise of remote work and outsourcing, project management team members are often located across the globe from each other.

Which makes the project management process a challenge. So how do you communicate with each other and keep everyone updated in real-time?

You need to use project management software like Stackfield, which allows you to collaborate with team members around the world, create tasks, and share documents.

Stackfield is easily accessible across a multitude of devices and has a user-friendly interface that makes the project management system more efficient.
Stackfield Pricing
Stackfield has a four-tier pricing system:

- Starter - $33 (£26) per month
- Business - $55 (£43) per month
- Plus - $99 (£77) per month
- Company - $188 (£146) per month

(Annual payment will give you a discount of two months)
---
6. Social Media Management Tool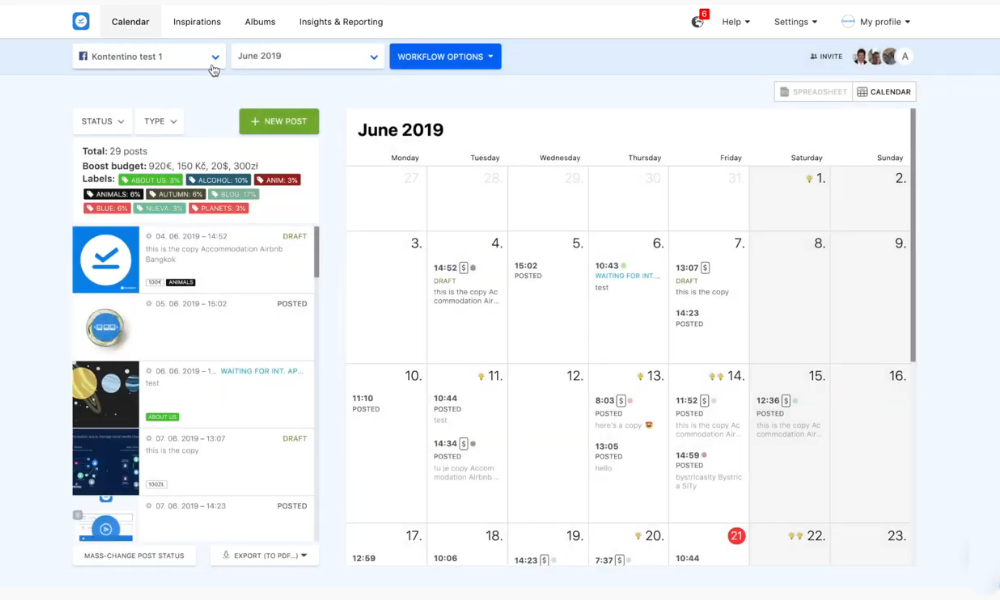 Streamline your social media workflow
Social media is at the core of all marketing opportunities, as it has been for the past decade.

For a small business, social media is a crucial tool as it promises increased engagement for a low cost (and sometimes, no cost at all).

But social media is a chaotic sphere—people are posting constantly, and social platforms are changing their algorithms to make it harder to reach one's audience.

There is a way to make social media posting much easier—by using Kontentino, a social media management tool that streamlines social media posting.

Kontentino has a simple drag and drop content calendar that allows you to move content around as you need to. You can also label posts for easy grouping and filtering.

There's a post checklist option on Kontentino that ensures your team follows all the steps when creating a post. And you can add your branding on images through the scheduler.

Kontentino is a one-stop-shop for all your social media management needs.
Kontentino Pricing
Kontentino has five pricing levels:

- Starter - $11 (10€ / £9) per month
- XS - $60 (54€ / £46) per month
- Small - $121 (110€ / £94) per month
- Medium - $231 (210€ / £180) per month
- Large - $342 (310€ / £266) per month

(-10% discount for annual payment available)
---
Conclusion
The right tool can make it easier for small businesses to function and reach their audiences.

The six tools we have listed above will make the marketing and management process easier. And they aren't that hard on the wallet either.

Now you have the tools you need to make your small business work better for less.