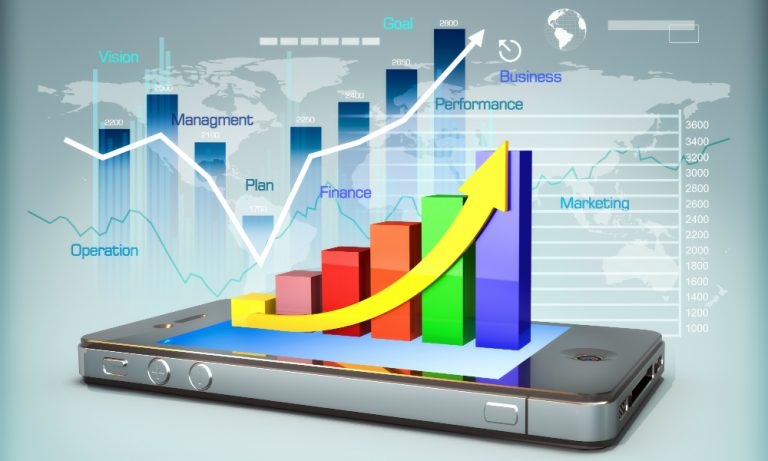 Choosing the Best Finance Apps and Software for Your Business
We are increasingly comfortable with using software and apps to help us with our everyday lives. According to app statisticians Business of Apps, 197 million mobile app downloads were made across the globe in 2017 – a figure that they predict will rise to 352 million by 2021. And when it comes to business, there really is an app for that.
One of the leading business accounting software providers has recently recorded its two millionth user, and with mobile and desktop apps covering everything from budget tracking to managing staff perks and annual leave, business owners have never had so much real time digital support at their fingertips. In most cases, software and applications can be fully evaluated within a free trial period so you're able to gain first hand experience of its features and suitability to your business.
Running a business means wearing different hats. You'll be a sales manager, head of HR and in charge of signing off on new products all before your first sip of morning coffee. Anything that can streamline your day and your business could be the extra pair of (digital) hands you need.
Get your choice of software right and you'll have more time to focus on developing your business strategy while your team will be free to work on delivering that strategy as their computer runs reports and deals with the back-office bits and pieces – all resulting in more productivity in the areas that matter most to what you do.
Before you choose
So, how do you get it right? As with most business decisions, running a quick inventory of your current processes is a good place to start. Have a chat with your team and managers. Where are the frustrations and hold-ups? Who's using any existing systems and how? Are there any bottlenecks? Are teams duplicating work? Will you need a system that can be used on the go via smartphones?
It's all part of good business planning. And the cost of software and tech tools required to run your business efficiently should be incorporated into your business plans and strategy just as you would incorporate the costs of a phone line, broadband and other office essentials when creating a budget.
In this article we'll focus on options for accountancy and financial management apps and tools. They dominate the market and can offer a useful entry point into the digital business world. We'll take a look at tech for other areas of business in another post.
Digitising tax
HMRC is increasingly moving to full digitalisation and from 1 April 2019 VAT-registered businesses are required to use HMRC's Making Tax Digital service to keep records digitally and to use software to submit VAT returns. The Revenue says going digital will make administering tax more effective and efficient and make it easier for tax payers to get their payments right. Getting an app and software on board and used by your team now could save headaches and issues when the end of the financial year comes around again.
Options to consider
Once you've worked out what benefits an app or software can bring to your business, it's time to check out what's available.
As with all your business decisions, shop around before spending your money, ask for demonstrations of the software or app and see what your teams make of it. After all, they will be the ones using it day-to-day.
Most financial planning apps and software will provide custom invoicing, payment tracking and full financial reporting so your decision may well come down to the extra bells and whistles on offer.
HMRC has been running a digital pilot which is likely to be a precursor to a full roll-out of digitising tax returns and it provides a long list of compatible software. It's worth checking the list before making any decisions. (All the options below are on it.)
Quickbooks is a name you will probably be familiar with, thanks in part to its recent high-profile advertising campaigns. Billed as a great all-rounder by in-the-know tech gurus Computer World UK, the package allows users to estimate tax payments, manage VAT and payroll, automatically send invoices and control stock. Rather neatly, it can do all this in varying currencies. Sign in and you have access to a desktop and mobile dashboard while data is securely held in the cloud.
Jostling for market leadership is UK-based Sage. It provides a similar suite of tools to its more advertised rival but has been specifically designed for start-ups and smaller businesses. There are entry level packages to suit more modest budgets and the Sage50cloud options integrate with Microsoft Office and, therefore, your existing Excel spreadsheets.
FreshBooks offers small businesses plenty of add-on options including time tracking and email packages. It is cloud-based only, meaning users can log in from any device – useful for when you are out of the office.
FreshBooks highlights its online security as one of its USPs and provides regular data back-up and security sweeps. While Sage is aiming at the start-up market, FreshBooks says service industries with a lot of cash going in and out every day would benefit from its bespoke packages.
Being able to automate late payment reminders for your customers, thereby reducing the need for those awkward phone calls, is a nifty option available from ClearBooks.
It's fully integrated with PayPal, GoCardless and PayPoint systems and is pitched at small to medium businesses that deal with money in and money out on a daily basis. As with QuickBooks, accounting in different currencies is possible.
Wave users have plenty of add-on features to choose from including a great on-the-go receipt scanning option. Users report that the software's dashboard is easy to use and can provide a quick snapshot of income and outgoings. The basic Wave package is free, which makes it an enticing choice, but that does mean you'll see a few external ads on the site.
Keeping customers and teams happy
Increasingly, customers are expecting businesses to be fully digital. The independent Access to Cash review published in March 2019 predicted that use of cash could fall to just 10% of all payments within the next 15 years. Being able to react and adapt to your customers' expectations and requirements is a key part of any successful business.
Choose your tech wisely and both your customers and your accounting team will be happy. Automating your bookkeeping could also help reduce costly mistakes and ensure your relationship with HMRC is a long and fruitful one.
Let's face it, accounting and money management in general isn't always the most enjoyable part of running a business. Anything that can ease the pain of your financial life has to be worth considering.
Comment and Get in Touch Below
Actionable business & marketing advice straight to your inbox