Professional-quality call handling you'll love
For companies in need of a professional, competent and expert receptionist for their business, a Virtual Receptionist from Answer4u is the ideal solution. Our friendly team are well-equipped to handle all incoming calls to your business, and we function as any other in-office call taker – without the same space or management requirements.
Our UK-based Virtual Receptionist service provides your business with the high-quality call answering needed to achieve a new level of professionalism for your business. We utilise a developed and well-tested call answering script that, depending on what you need, can be adapted just for you, designing a perfect call experience for any kind of call-taking requirements you have.
A 24/7 solution to fit the needs of your business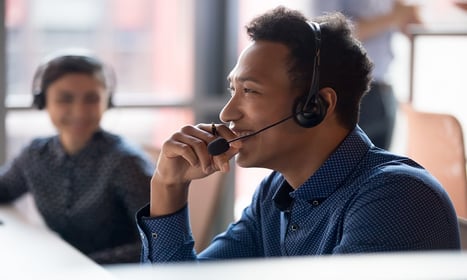 Our Client Portal allows you to quickly and conveniently manage your call answering and processing, whatever time of the day or night. Our service team are in Mon-Fri during normal working hours so if you have a query or need assistance, you're never more than 12 hours away from help.
This specific service is available based on the hours required for your business, whether you're open around the clock or only during standard business hours. Whatever your requirements, Answer4u has the solution you need to achieve exceptional over-the-phone results.
Never miss a call
During seasonal peaks, staff absences, and client meetings, our efficient 24/7 telephone answering service can support your business when staff are out of the office, ensuring you never miss a call. This lightens the load and provides the opportunity to capture leads for you to follow up on.
Customers never face constant ringing or being put through to voicemail as they will always be able to talk to one of our friendly agents. You can guarantee that we will answer queries quickly and efficiently with our 24/7 call answering service.
Cost-effective with no contractual obligation
With your own Virtual Receptionist, you can save money by not employing more personnel and it will avoid damaging productivity amongst existing staff as they will have more time to complete their assigned duties. With no contractual obligation and with both cost for call and call bundle packages available, you'll have total flexibility to choose a solution that perfectly matches your business needs. You'll have peace of mind knowing exactly what you'll pay each month for your anticipated call volumes. As an added bonus, we'll also give you the flexibility to vary your bundle once per billing cycle to make sure your service always remains cost effective. Why not consider using our 24/7 telephone answering service? Start your free trial today.