Custom call handling tailored to your business needs
For any business large or small, the addition of a professional Virtual Assistant can be invaluable. Answer4u offers exceptional assistant services with our friendly team of in-house experts, allowing us to provide an outstanding solution that's just as effective as in-office staff. With our Virtual Assistant services, managing every aspect of administration is easier and more effective than ever.
Highly personalised for an air of extra professionalism
Our Virtual Assistant service offers a highly tailored solution to suit the needs of your business. Whether you require a personal assistant or an assistant for a whole department, we can utilise our existing developed scripts and adapt them to your business purposes. Our professional approach and adaptive way of working ensure we can answer all queries swiftly and effectively.
The Virtual Receptionist service offers an even more personalised service for your customers, following an in-house process for consistency and professionalism – as if the caller is calling someone within the company. This will show callers that our 24/7 phone answering service is an extension of your business.
A solution that fits in with your business practices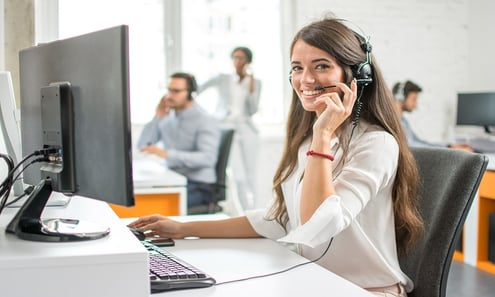 Our powerful A4u-Anytime Client Portal provides a convenient and practical way to instantly manage call processes, answering and any other administrative changes you require from your Virtual Assistant. From the moment you set up your outsourced line to any assistant you may need, our support team are here for you – just get in touch and we'll be on hand to help you.
Whether you require an accessible assistant 24 hours a day, seven days a week, or your preference is to stick to typical business hours, we have a solution that works for you. Answer4u is designed to work to your requirements, achieving fantastic results for on-point assistance from day one.
Quite often, companies will receive calls that have no value to their business including cold calling and telesales. However, with this service, these types of calls can be filtered out.
Value for money
Different service packages are available to cover your needs, helping you stay within budget. Outsourcing your out of hours call handling to a Virtual Assistant is a great investment, providing great value for money. We offer fixed rate costs for all calls with no premium charges for calls taken out of hours - we are always upfront about pricing.
Our 24/7 phone answering service is completely scalable, so you can reduce your level of support required as your company downsizes, or increase it as your company grows. Save costs on staff resources, let existing staff carry on with their assigned duties and avoid calls going to voicemail with our highly efficient 24/7 phone answering service, Virtual Assistant.
Remove the stress of answering calls and get a free trial today.