Add a new layer of professionalism to your small business
You may be a sole trader, a start-up or a small business with regular enquiries coming through on the telephone. However, due to possible lack of infrastructure, staff and resources, it may not be feasible for all calls to be answered. Most customers may not wish to leave a voicemail if they can call a competitor instead. Missed calls signal missed opportunities.
For the average small business, the cost and space required for an in-house receptionist or support team can be prohibitive. Specific telephone answering services for small businesses are the ultimate solution, providing you with the professionalism of continuous phone services, with none of the space requirements. Our friendly team can field all incoming calls, from support queries to meeting requests, to provide an additional layer of professionalism to your company.
Our 24/7 call answering services are entirely custom to the needs of your business, designed by you and implemented by us. Our highly developed telephone scripts can be adapted to match the tone, feel and specific requirements of your small business from the start.
A customised service that does more for you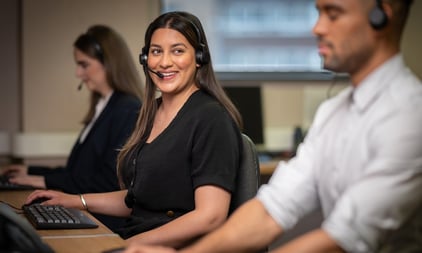 For a custom service that supports your customers and represents the values of your business, we're the company to turn to. Our A4u-Anytime Client Portal allows you to manage, adapt and change your call processes and capacity swiftly and efficiently. For any additional help, our support team is available during regular working hours to see to any queries you may have.
Whether you need around-the-clock answering services or require additional support during business hours, our telephone answering team is ready and waiting to take on the role. We're available 365 days a year to support your small business with an out of hours call answering service to get you where you need to be to succeed.
How we can help you
We offer two entry-level services: Virtual Receptionist and Flexi Virtual Assistant. Our highly trained and experienced agents are based in the UK, happy to take your customers' calls in a friendly manner. With various service packages to cover needs and helping you stay in budget, it's a helpful investment that will allow you and your staff to work much more productively.
Our 24/7 telephone answering service is perfect for when:
you have client meetings – it's inevitable that you and your staff will not be able to answer calls all the time.
your own staff are already engaging with clients on the telephone.
your staff are out of the building - it will be difficult to answer any queries that come through as a result.
the business is closed out of its normal hours.
new advertising leads that in-house staff can't handle due to the sheer volume of queries.
If you're a small business, let us help you. Contact us today.