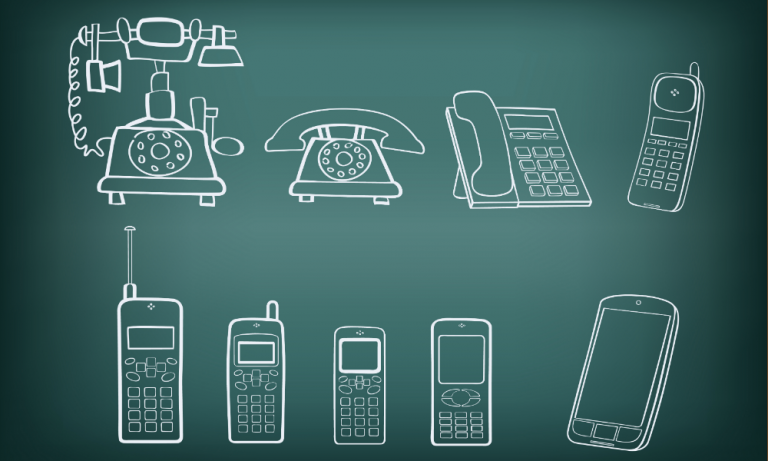 Five Fascinating Phone Facts You Simply Must Know
The phone is such a popular form of communication that it's all too easy to take it for granted. After all, around 95% of households in the UK now own a mobile phone! While landline phone ownership isn't quite on that scale, it's probably fair to say that most of us take those for granted too. But while phones may be an essential aspect of modern life, you only need to look a little closer to discover a variety of surprising facts associated with them, as we did in a previous post which you can view here. There are so many fascinating stories associated with the phone that we wanted to share even more. Because, not only are they interesting in their own right, but these somewhat curious tales are also great reminders about the vital role that phones play in our lives, both in and outside of business.
1. The comedian's first call
Who do you think would be the person with the honour of making the very first public phone call on a mobile phone in the UK? Perhaps an engineer or a technician involved with developing mobile phones? That would be a natural assumption. However, the person who actually made that momentous first public call was none other than professional funnyman, Ernie Wise - one half of the much-loved comedy double act, Morcambe and Wise!
On 1 January 1985, Wise arrived at St Katherine's Dock in London for the press launch. He made his entrance in an olde worlde mail coach and was dressed in full Victorian costume. This was aimed at highlighting just how cutting edge the mobile phone was as a form of communication.
| | |
| --- | --- |
| | A large crowd watched Wise as he made that first public call on a Transportable Vodafone VT1, which weighed no less than 11lb! His call was to the original Vodafone headquarters which were then based in Newbury, Berkshire. |

In the interests of accuracy, we do have to add that while this was the first mobile phone call made in front of a crowd, the first actual mobile call in the UK was made shortly before this by Michael Harrison, the son of former Vodafone Chairman, Sir Ernest Harrison. Harrison was the first person in the UK to test the system when he called his father at midnight on 1 January 1985, from Parliament Square in London. But it was most certainly Ernie Wise who was the first to be publicly witnessed making a mobile phone call. The comedian would never have guessed quite how essential to everyday life the mobile phone has become since then!
2. Nomophobia Facts - 'Phone phobia'
Did you know that our phones are now so important to us that there's an official word for the phobia of not having your mobile with you or being unable to charge it? Have you ever felt worry or fear at the thought of losing, forgetting or not being able to use your mobile phone? Then you probably have Nomophobia. Nomophobia is such a big deal that it was chosen as Cambridge Dictionary's Word of 2018! The wordier name for it is "smartphone separation anxiety" with the theory being that the anxiety is linked to a loss of a sense of identity. But with the mobile phone such an integral part of business it's understandable that being without it could cause you to worry. Any type of business-owner is likely to feel anxious if they're not able to make or respond to calls. But it is important to find ways to reduce the pressure and take the worry out of dealing with phone calls. Don't be like more than half of the UK population and let Nomophobia rule your life!


3. Victorian telephone facts
The history of business is littered with stories of missed opportunities. They serve as cautionary tales for every entrepreneur. The early version of the phone is connected with one of these. The 14th January 1878 was the momentous date on which Alexander Graham Bell showcased his newly invented telephone to none other than Queen Victoria herself. The royal was treated to a live demonstration of the UK's very first public long-distance calls. Her Majesty was so impressed that, as well as writing the inventor a letter praising his creation, she also made an immediate request to purchase two of the new-fangled devices for her own use! However, despite the royal seal of approval, the Post Office, which was of course, Her Majesty's Post Office, gave a firm "No" to Bell's offer of the rights to develop the telephone as part of the British telegraph system! By the time the organisation realised what they had turned down, Bell had already sold the rights to a number of private companies. This mistake was also made in the US by the American telegraph company, Western Union.
4. On hold
Being put on hold while on the phone is very much part of life. Even great companies will have to put you on hold once in a while. It's a familiar part of making calls. So, it may surprise you to know that the saying that we all use to refer to this experience is just an accident of history. The origin of the term "on hold" relates to the actual moment that the inventor of the phone, Alexander Graham Bell, passed his telephone over to his partner, Mr Watson and said, "Here, hold this". Who would have thought that such a well-known phrase could have come directly from the very earliest days of the phone! Keep that in mind the next time you're on hold…
5. The throw-down
Oops! There's nothing like that sinking feeling when you drop or knock your mobile phone, is there? But imagine actually throwing your mobile phone around on purpose! If you're a contestant in the Mobile Phone Throwing World Championships in Finland, that's exactly what you'll be doing. Hurling or chucking a mobile has been a popular annual activity there for almost 20 years! It all began when a company decided it wanted to help its employees to quite literally throw away their frustrations along with their phones. As if this wasn't great enough, you can now take part in similar events in the UK (and other countries) and all of the competitions have a heavy focus on promoting mobile phone recycling. See you at the World Championships!
A great invention
It's all too easy to take the phone for granted. Not only does it have a fascinating history, but it also has a vital role to play in our lives today. From the first public launch by a much-loved comedian to the approval of a famous royal, the phone is an essential part of our lives. Phones have changed dramatically since Alexander Graham Bell's day. But what hasn't changed is their power to allow us to form and build great connections with others.
If you enjoyed discovering these curious facts about the phone then why not take a look at another equally fascinating Answer4u article here: hidden emotions behind business phone calls!
Comment and Get in Touch Below
Actionable business & marketing advice straight to your inbox