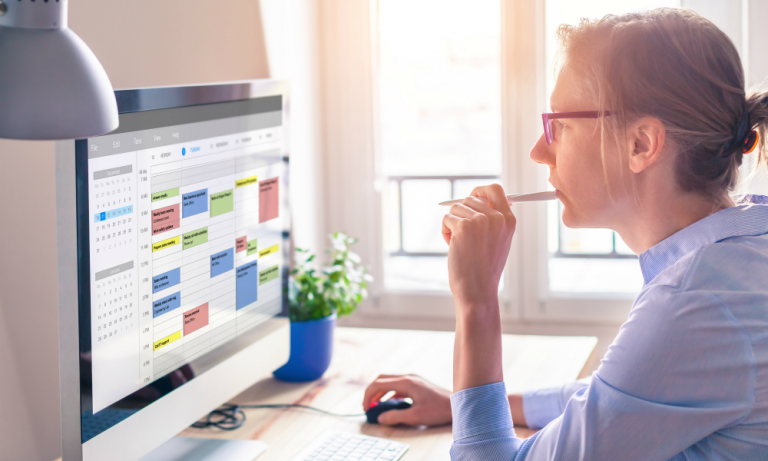 The Best Time Management Apps to Help Keep You on Schedule
Struggling to keep on top of all your tasks? Trying to strike the perfect balance between work and home whilst having a social life too?

You are not alone. According to a survey carried out by One Poll.com, more than six out of 10 Brits quizzed said they struggled to keep their life organised with all the things they had to do.

Working long hours doesn't necessarily equate to higher output either according to think tank Autonomy. It's advocating for a shorter working week and says putting in long shifts at your desk can lead to more mistakes. Employees won't thank you for the opportunity to stay late yet again.

Working smarter and being organised used to mean carrying around a leather-bound Filofax stuffed full of notes and calendar reminders. Thankfully, tools to help you save time and reduce stress at work for you and your staff have moved on a little since then, and there are a plethora of time management apps to choose from.

If you are time poor then anything which can help speed up working processes or help you keep on top of your projects has to be worth thinking about, so we're taking a look at some of the best time management apps for you – already saving you some time!
| | |
| --- | --- |
| | Your choice of the best time management apps and digital solutions will naturally be shaped by what you need from them, although ease of use is likely to be a common want. Asana aims to ensure users across your teams are engaged and enjoy the project managing experience. Given their similarities, Asana vs Trello and Asana vs Todoist are phrases often typed into Google search bars, but for sheer user-friendliness alone Asana scores high. Asana's blurb says using the app can boost team efficiency by 45% while the 'Timeline' tool aims to ensure everyone is aware of their project deadlines. |
| | |
| --- | --- |
| | Pros: Great project management tool for beginners which integrates simply with email systems. It also connects with Google tasks and Google Calendar. |
| | Cons: Some reviews mark it down for post-installation service. |
| | |
| --- | --- |
| | If awards were given for the best time management app names, then the Remember the Milk app would surely be a prize-winner. It's the digital equivalent of a knotted hanky and offers an online to-do list which is easy to update. Developers say using it will see an end to all those sticky notes on your computer while lists can be shared, meaning you can delegate tasks to others. Jobs can be ordered by priority, and you can set reminders via several channels including Gmail – so there's no excuse to forget that call with the CEO (or to ever be short of milk) again. |
| | |
| --- | --- |
| | Pros: The basic version is free as are some other features which are paid for on other apps. Easy to use and can be adapted to your needs. |
| | Cons: Have a read through some Remember the Milk reviews, and you'll see a few complaining about the Android version, which can be a little clunky apparently. |
| | |
| --- | --- |
| | Todoist is another project management tool specifically aimed at small to medium businesses. The official blurb promises the app will allow users to manage project scheduling, and users can assign jobs to different people, who in turn can import tasks to Todoist. There are several Todoist project templates to choose from, and they can be easily adapted to meet your and your team's needs - or you can create your own custom template from scratch. The app will integrate with your existing systems, such as Dropbox and Google Docs, and you can link Todoist to Google Calendar. The app has three options: Free and Premium (aimed at personal users) and Todoist Business. |
| | |
| --- | --- |
| | Pros: The reminder function is called out as being especially helpful, while being able to integrate Todoist with Google is seen as a big plus. |
| | Cons: Some reviews suggest the apps work better with the Premium subscription while others say features are missing from the Windows 10 version. |
| | |
| --- | --- |
| | Trello is one of the leading project management apps in the market, with more than 25 million users across the globe. It's based on a project board system, giving it the look of an old-fashioned flip chart. The Trello 'boards' correspond to different projects while 'cards' represent tasks. It's a case of picking up the cards and moving them around the boards based on project progress. It's a very visual way to check on task status and project progression. Notes can also be added to cards to keep users updated. How to use Trello boards is covered by the in-app guide, which also helps users to integrate other apps into a new Trello board. |
| | |
| --- | --- |
| | Pros: Very intuitive, flexible and simple to use; picking up and moving cards around the boards using drag and drop is something reviewers say everyone will feel comfortable doing. |
| | Cons: Reviews are almost universally positive, but some users complain about a lack of email integration and that keyboard shortcuts while in the app are limited. |
| | |
| --- | --- |
| | Cross platform to-do app Wunderlist was acquired by software giant Microsoft back in June 2015. Much loved by small to medium sized businesses and freelancers, it continued to offer its task scheduling and project management tools until May 2020 at which point it was discontinued in favour of 'Microsoft To Do'. Developed by the original team behind Wunderlist, this cloud-based task management application was first revealed in 2017 and has continued to introduce new features and further development of its user interface. In addition to those featured within this blog, you'll find a useful roundup of Wunderlist alternatives over at the Chamber of Commerce website. |
| | |
| --- | --- |
| | Pros: Being owned by Microsoft will have its advantages and in particular with its potential for integration with other Microsoft products. It already integrates with Outlook and the promise for future useful integrations sound promising. |
| | Cons: Despite its protracted development, it's still not as feature rich as many of its competitors and indeed the original Wunderlist. It has great potential but overall many currently look upon it as a little 'half-baked' in its current form. |
| | |
| --- | --- |
| | Evernote focuses on providing an easy way to record and organise thoughts, transcribe interviews or take business meeting minutes. One of its major USPs is that it is cloud-based, so a system shutdown or broken laptop won't mean a loss of your precious notes. It also means the app is easily accessible and can be synchronised across devices. Other text, tables, checklists and web clips can all be added to your notes. Especially useful is the way the app can pull out and store words from images and PDFs. You can use Evernote offline too in the Business, Premium or Plus options. |
| | |
| --- | --- |
| | Pros: The ability to organise notes and move them into new sections and to save web and other attachments to each note are both a big plus with users. Audio recordings can be made too. |
| | Cons: There's no feature for converting handwriting into notes, although you can use a stylus with Evernote, and some reviews complain the subscription costs aren't that cost effective. |
Working Smarter, Not Harder
It's all about working smarter, not harder these days. Going digital with your to-do list or project management needs makes a lot of sense, particularly as most offer a free basic service. In most cases, you can try before you sign up through free trials, so there's nothing to lose except a little bit of time – which you'll quickly recoup once you settle on the right solution for you.
Comment and Get in Touch Below
Actionable business & marketing advice straight to your inbox