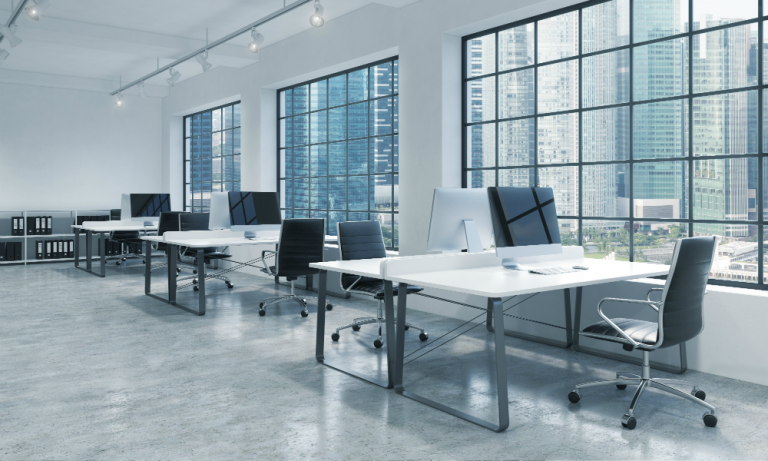 10 Commercial Property and Office Space Ideas for Startup Business
So how do you go about finding the right space for your growing business? Here are a few pointers on the aspects you need to take into account.
Taking your first step into renting or buying commercial premises or office space can be a daunting prospect, but there are many good reasons for taking the plunge...
---
Spare rooms such as bedrooms or garages are often used as the first base for new startups, but as the work grows this stops being a practical option. Firstly, you can't fit much of a team plus their office equipment into a bedroom, so unless your business involves employing or contracting freelancers with their own premises, you'll need a dedicated base.

Secondly, a home office doesn't always give the most professional impression to potential clients – and it can be a little embarrassing inviting customers to 'come upstairs'.

While it may seem like a huge step to take on the responsibility – and financial commitment – of dedicated office space, you need the room to expand and it's a step that every growing business will need to take.

Even the biggest of companies started small – according to website Retireat21, Amazon, Apple, Disney, Harley Davidson and various others were born in garages. Adidas was born in a wash room in Bavaria in the early 1900s.
Google is a great example too – after registering Google.com in 1997, the founders set up workspace in a garage in 1998, before moving to new offices in February 1999 with eight employees. They then moved later that year to bigger premises in Mountain View with 11 staff, and continued growing from there. It's a model they repeated – apparently their first team member in New York was based out of a coffee shop in 2000, and they now have more than 4,000 staff in a former city Port Authority building. And their international office in Sydney opened a few months after the first staff member started selling AdWords from her lounge in 2002.
Questions to ask yourself when renting (or buying) office space
1. Location, Location, Location
| | |
| --- | --- |
| | As well as deciding on the geographic area you want to be in, you need to consider issues like accessibility, transport links, local infrastructure and parking. Is public transport available for staff? Is it easy to find for customers? Is there parking? Is there somewhere nearby for lunches away from the office? Is broadband available? |
2. Parking
Yes, parking is already mentioned under number one, but you can't underestimate its importance. Difficulty with parking could be a major issue for both your staff and for customers who need to visit.

If you have an otherwise ideal office space in mind but no parking available, consider asking other businesses nearby, such as a hotel or pub, if they would consider an arrangement where you pay to use their spaces.
3. Bird of a Feather
They say birds of a feather flock together, and companies in the same industry often gather in the same area. Many towns and cities now have "sectors" dedicated to business innovation and enterprise – for example, both Folkestone and Nottingham have Creative Quarters – and out of town there are the obvious business and industrial parks. Check out where complementary businesses are located in your area to see if there's anything suitable for you.
4. Know How Much Space You Need
You may know that initially there will be say, three of you in the new office, but remember to allow for your expansion plans and extra staff coming on board. Having a great office for three people quickly turns into a bad place to work if you add to the team without allowing for the extra workstations needed.

As your team numbers increase, so will the need for the extras like kitchen and toilet facilities, rest areas and potentially confidential meeting rooms.

There's guidance available from the Health and Safety Executive on the amount of space each employee needs, and Zoopla Property Group, among others, has an online commercial space calculator.
5. Know - And Stick To - Your Budget
Make sure any lease you sign up to fits in with your long term business plan and growth strategy, and stick to your budgets.

Consider whether you want to rent or buy an office – according to bytestart.co.uk there are a number of basic pros and cons to buying, which they discuss here
And don't forget to factor in the cost of fitting out the offices and installing the infrastructure you need. Business interiors company Office Principles says that as a guide, you should allow between £750 to £1,000 per person for a basic fit out, and up to £1,750 to £2,500 per person at the higher end.
6. Could You Share Space?
Do you need a place of your own, or could you take on some space in a shared development? In a shared space it could be possible to initially move into one office and later grow within the development without needing a change of address (as long as there is extra space available in the building). Facilities like receptions, kitchens, toilets and meeting rooms will be shared.

Have a look online – for example Share My Office gives details of space available within existing companies on offer to startups, and Office Genie has a searchable database of space available to rent.
7. Take Advice
Find a local commercial estate agent who specialises in the kind of space you're looking for, and use a commercial property lawyer to work through the legal side of things. Commercial lease agreements can usually be heavily negotiated and a good commercial property agent should be able to save you far more money than they will charge.

If you already have your in-house team in place, ask them what requirements they have when it comes to the new office space. For example, HR may need a confidential area, finance may need a top notch filing system and marketing may need a large printer and storage area. While you might make the final decision and sign on the dotted line, the offices need to work for your team too.
8. Timing Is Everything
Allow enough time in your planning to find a property then get it ready to occupy. Rushing in to meet an unrealistic deadline may mean you have to compromise unnecessarily. Moving into new offices can easily take as long as moving house – and we all know how long that can take!
9. Is It Really You?
Think about your image and branding, and what your clients expect from you. Yes, you may be able to get a cheap office space above a takeaway for instance, but will your clients be impressed if you hold professional meetings in a room smelling of deep fried food?

Be careful not to go too far the other way though – if your clients think you spend more than you should on your offices, they may start questioning your prices!

Your office space should suit your business type and impress your clients and staff by being professional, comfortable and fit for purpose.

Buzzfeed.com has an interesting feature looking at some stunning startup spaces which show how it can be done – but remember to stick to your budget.
10. How to Find Your Ideal Office Space
As well as talking to your estate agent about finding a property, try contacting your local council. Their role in supporting new and growing businesses and inward investment can be useful when looking for new premises. For example, Leeds City Council has a web area dedicated to business startup accommodation and support which includes information on council owned properties for rent, shared office spaces and a property database.

Nottingham City Council works with Nottingham Property Plus, which acts as the Council's property agent, and the more rural Cornwall Council also has a list of properties available online including prices. Why not check out what support the council offers in your chosen area?
Room to Grow?
So think, where would Adidas be if they'd never left that wash room? Where would Google be if they hadn't moved out of that garage? Of if they'd stuck with working out of a coffee shop and a lounge?

And where will you be if you don't get yourself the room to grow?
Comment and Get in Touch Below
Actionable business & marketing advice straight to your inbox