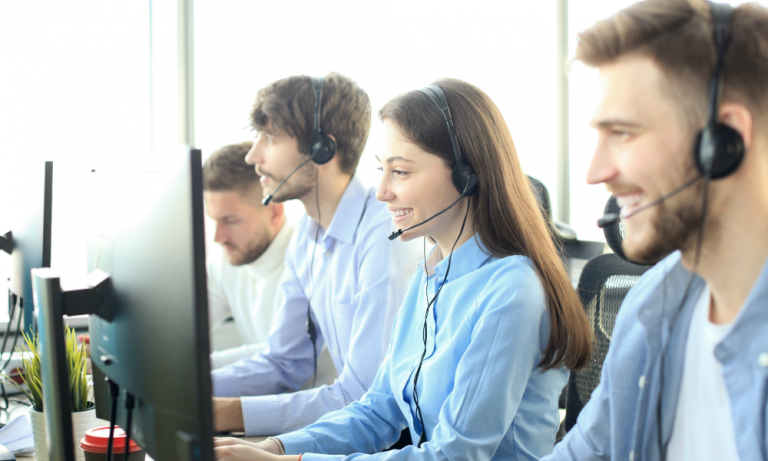 Five Ways to Deliver Great Customer Service
The boom in mobile communications and internet technology has really opened up the ways we can all communicate with each other in our daily lives. According to the 2018 communications market report from Ofcom, nine in ten people in the UK had access to the internet in the home in 2018 and mobile devices accounted for the majority of time spent online.
Seven in ten commuters use their smartphone on their journey, mostly sending and receiving messages and using social media. Smartphones have even become the most popular internet-connected device, with 78 per cent of UK adults using one.
But according to the report, the benefits of the last ten years of connectivity have not been distributed equally. Lower-income households and the over-54s are less likely to have smartphones, laptops and tablets.
So if you want to deliver excellent customer service, bear in mind that while many people do prefer online communication, there are still plenty of people relying on the more traditional methods such as making a call.
---
The five key customer service channels

Given the number of options customers have for communication, there are now five key channels for delivering great customer service.
1. Customer self service

Allowing customers to easily find out for themselves what they need to know can save everyone time, for example by making information available and easy to find on your website. You can look at your records of previous customer queries and your commonly asked questions to decide what needs to go into your online FAQs. Make sure the information is regularly reviewed to ensure it stays up to date and is organised in a way that is easy to navigate. Also make sure there is an obvious link to more support if the FAQs don't answer an individual's question. Building FAQs will also help populate a 'knowledge base' that you can use to support all your customer service channels.
2. Social media support

Social media is a double-edged sword for businesses, offering a way for you to find out what people are saying, but also allowing them to 'air your dirty laundry' in public by taking their complaints online. Firstly, on the plus side, you can use general chit chat to gauge how well you treat your customers – whether people are saying good things about your products and services or niggling over issues they've chosen not to officially complain about. Going that extra mile by keeping your finger on the pulse should help you improve customer support overall by being aware of potential issues, escalating them within the company and addressing them before they become a real problem.
Several studies have found that most people feel they deserve a response over social media the same day. However, while speed of response is important to keep customers happy, you also need to get the response right. In many instances it will make sense to acknowledge a question or complaint and steer the communication towards another channel, for example offering to call or email, returning to social media after they have received good customer service and the issue has been resolved to thank them for their contact.
3. Live chat support

Offering live chat support is another online option to serve your customers, but one that keeps customers engaged with your website through a 'widget' that offers direct communication. Live chat can be useful for customers as it means they don't need to take the extra step of making a call or sending an email, and they can continue browsing online while your customer service rep finds the answer to their question.
However, the facility does increase expectations for a quick response – 'live chat' implying just that. Because live chat will be displayed as an option on your website 24/7 you will need to come up with a solution for servicing it. You might consider using customer service reps during working hours with a chatbot out of hours to answer questions, point people towards a relevant section in a FAQ, and pass on queries for staff to address the next day if needed.
4. Email support
Emails remain a common way for people to problem solve and link with customer service teams, and you may want to continue conversations started on social media over email to allow more in-depth discussion. Email is often the domain of spam, but resist the temptation to bombard your loyal customers with information. Try to keep communications targeted and personal.
Don't think of email as a good way to avoid a conversation – it's just another way of holding a conversation. Smartphones also mean that your customers often have access to email when they're out and about or relaxing at home, not just when they're tied to a desk, making it more accessible at all hours. Again, a quick answer will be expected, so you may want to consider automated responses with links to an online FAQ that people can browse until you can respond.
5. Phone support

Phone support remains important for those who don't have easy internet access, prefer to speak to a human being, or find it quicker to simply talk through their queries rather than spending the time typing it all out.
Such support shouldn't be limited to working hours, as people now expect to be able to make contact at all times (after all, they can't necessarily make phone calls during their own working hours). With the growing expectation of a speedy resolution to queries, a 24/7 telephone customer service support mechanism is essential long term.
How do you provide excellent customer service?
Depending on the size of your organisation and your customer service team, you may choose to deliver all these channels through a combination of an in-house team (perhaps working shifts to cover extended hours) and customer service software, or you could follow the route of outsourcing.
In either instance, one key way to make resolving customer queries easier and improve your customer service is to develop a knowledge base that underpins all your systems. A knowledge base is a library of information about your product or service. You can use it to populate FAQs for your customers, as a basis for chatbot interactions and as a resource for your customer service officers – which will help ensure all your responses are correct and consistent. This applies whether your systems are delivered in-house or outsourced.
You can create the base yourself and there are a number of software solutions out there to facilitate their use, with websites such as HubSpot offering advice on building one. Your ongoing interactions can be used to feed into a growing knowledge base and FAQs. Systems are available that can link the information from all your channels and enable staff to move between them easily (for example emailing a customer who has made contact on social media) – for example Zendesk's integrated customer service support, which links different channels and allows you to pick up with customers offline.
What elements are key to customer satisfaction and loyalty?
The Institute of Customer Service published the results of its most recent UK Customer Service Satisfaction Index in January 2023, which looked at more than 25 measures including staff professionalism, the quality and efficiency of the service, trust and transparency, the actual customer experience, complaint handling and ethical dimensions.
The institute says that, to reflect evolving customer priorities, this year they also added additional measures reflecting consumer emotional and relationship needs, including whether customers feel organisations keep their promises, do 'the right thing' in business practices and make them feel reassured. They say that consumers are placing growing importance on trust, transparency, emotional connection and ethical behaviour.
So whether you're a small business or a larger corporate sized organisation, your customer service is based in-house or outsourced, whether it utilises chatbots, AI or online systems, and whichever channels your customers choose to use, the message is clear to all business owners – respond quickly and get it right, every time.



We'll help deliver great customer service to your clients
Answer4u have proven experience of helping businesses of all sizes achieve outstanding levels of customer service. If you would like to discuss your options then please fill in our contact form.
Comment and Get in Touch Below
Actionable business & marketing advice straight to your inbox