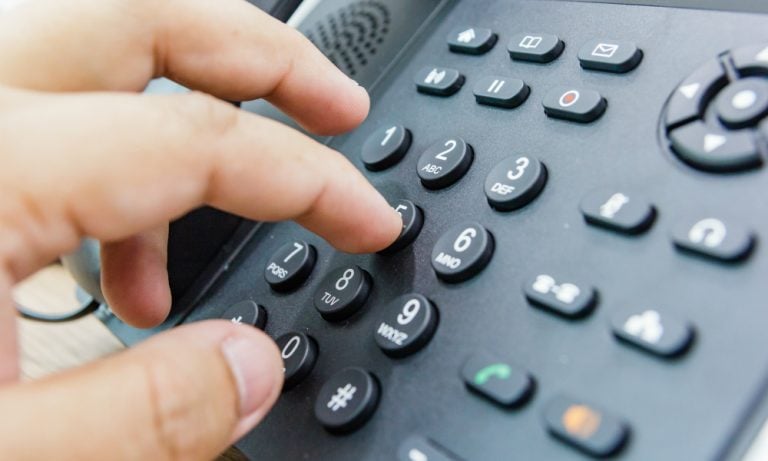 What is a Telephone Answering Service?
Answer4u Explains What a Telephone Answering Service Is and What It Isn't
A Telephone Answering Service is an outsourced business provider of specialist operatives who answer calls on your company's behalf. Whenever someone calls your business telephone number, they can take messages and undertake specific key business processes in real time. This saves your business time and money and ensures you are always available to your client base, an increasingly important feature of all UK businesses today.
It can get pretty confusing with the amount of industry terms what exactly an answering services provider is. The call handling services offered can vary from company to company. It can be difficult to understand what the difference is between a call centre and a telephone answering service. Here we'll look into what each actually means.
Call Answering Service vs. Call Centre
Call centres are usually associated with 'cold-calling' or various types of outbound marketing and customer services calls. Answering services support callers who are contacting your business directly via an inbound call.
Whilst an answering service will operate in call centre environments, their primary functions are very different. A call centre agent typically has strong sales skills, aimed to overcome the adverse reaction to 'cold-calling', whereas a telephone answering service agent will typically have stronger soft skills and customer service skills, focussing on resolving the callers query.
Why do you need an Answering Service?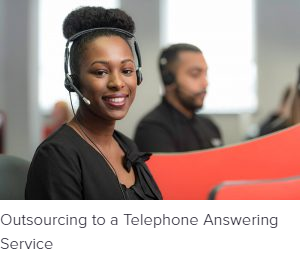 An answering service is a cost-effective way of managing your daily customer interactions. By outsourcing, you can avoid hiring new staff to handle calls or free up time for existing staff to work on other value-adding activities. And unlike an employee, if you don't use your answering service, you don't pay for any call handling. This means you can easily respond to an influx of calls, without straining your employees, and you don't have to worry about bored employees when calls are low.
Outsourcing to an answering service allows you to spend more time on other key areas of your business and gives you peace of mind that the phone calls to your business phone number are being handled at all times, in a professional and approved way.
Answering services can operate outside of your office hours, making sure every call is answered even when you have closed for the day. So, when you return to the office you can have full confidence in knowing that all your business enquiries have been dealt with in a professional manner.
An answering service can instantly respond to peaks in demand. So if you are running a specific campaign, have seasonal services or products, or you have members of your team on holiday, your answering service can step in with no notice and provide a seamless extension of your business.
Answer4u offer competitive rates on all levels of call answering with a full suite of experienced and trained operatives based in our Nottingham offices. With skills gained from working on many accounts, our operatives can deal with any type of enquiry or business process in a professional manner. Our trained agents and the cutting edge technology which supports them ensures the highest levels of customer service for all our clients.
Types of Answering Services
Answering services can be all-encompassing or very specific to what you really need. There are various options for what your business may feel is necessary, so here are a few options that could suit your company.


Virtual Receptionist Service
| | |
| --- | --- |
| | A virtual receptionist is the first point of call for any customers calling your company. They'll get all the information from the caller and deal with it according to your specific instructions. Whether that be passing on that information on to yourselves or forwarding the call to the required person. |

Payment Processing and Order Taking
| | |
| --- | --- |
| | Simple or complex order taking and processing the payments for services of products using a payment system process inline with your business. All done securely and as quick as possible. |
Answer4u's order taking and e-fulfilment services help your company gain a competitive edge and increase sales. Outsource order taking services to stay open for business when your competitors are closed.

Research has shown that even though your website provides a 24 hour online ordering digital shop front, a high percentage of customers' feel more comfortable placing their orders with a customer support department by telephone. Our team can also help you take and process brochure or sales literature requests – often a time consuming but vital task. Our order processing call center is open and ready available whatever time your customers contact you.

Through our order taking and e-fulfilment service, Answer4u will help you service customers' who prefer to call rather than order online. Often they have questions they'd like answering before they purchase or want to verify details and have literature sent to them before making a commitment. To give them the very best customer service, we will work with you to understand their FAQs, and the types of call requests you receive. We'll then develop a cost effective inbound order taking service that's right for you, using predefined scripts to help us take your orders, process information requests from both the call handling side right through to the final fulfilment.

You have the flexibility to use us as and when needed so we can either support your existing sales team when they need an additional phone order processing resource or take complete ownership of your sales line.
Professional Phone Order Taking Services 24/7/365
Answer4u can handle your sales calls whenever you are unable to. We typically help customers' manage their peak or seasonal sales periods, trading spikes as a result of media campaigns as well as providing cover outside of their usual business hours.
Order Payments Taken on Your Behalf
Order details can be forwarded to you securely for your own internal payment processing if required.Payments can also be taken via your own in-house merchant system of choice.
Accurate Data Capture and Database Build
By asking all the questions you need – such as name, address, email, telephone number, category of call etc.- we'll accurately capture the caller's information and build up your database of customers' and prospects.
Real Time Support Services and Question Answering
Sales support functionality can be built into your script to answer your customers' product or service FAQs to help convert them from enquiry to sale.
Bespoke Caller Options
You can fully define all the call types available to your callers, allowing us to qualify the nature of a customers' interest on your behalf.
Fully Managed Telephone Order Taking Service from Call to Fulfilment
We'll handle everything, from a call for sales literature to getting it sent via email.
Take orders at the point of interest maximising your sales conversion rates in the process.
Upload orders into your internal systems so your team can process and fulfil them as quickly as possible.
Customer Service Help Desk Operatives
| | |
| --- | --- |
| | There to support your customers with any necessary information that they might need 24 hours a day. Working with you to be consistent with your company's approach and policy, creating a script that fits with your tone of voice. |
Answer4u offers a comprehensive helpdesk support service so you can provide a customer service mechanism to your clients' 24 hours a day, 365 days per year.

We understand that effective helpdesk support is one of the essential factors in customer service and our aim is to help you provide customer experience levels that sets you apart from your competitors.

Answer4u's helpdesk solutions will supplement your customer service function on a permanent or overflow basis. We will help you manage your helpdesk's peak call volumes, answer your helpline outside of normal office hours and enable you to cover holidays and illness.

The first step in our service is for our team to fully appreciate the level of customer support and type of issues your helpdesk typically deal with and the times you need support. Our experienced project management team will then advise you on the ways we can help you and develop a solution to suit your needs.

Once the solution is agreed, we'll prepare and agree scripts as well as protocols for forwarding specific enquiries to your relevant individual, department or support engineer for escalation and/or develop in-depth scenario scripts so our customer service team can offer help and guidance to your clients' on their initial call. If required, our support analysts also have the experience of working with clients to integrate their existing customer support software into our help desk services to help provide a seamless problem management solution.
Overflow and Out of Hours Call Management
Answer4u can handle your calls whenever you are unable to. We typically help customers' manage their peak times, unexpected high volumes of call center calls, out of office helpdesk cover plus sickness and holiday cover.
Caller Options
You can define all the different call categories available to your callers, allowing us to qualify the nature of a customer's problem on your behalf.
Accurate Data Capture
We'll ask all the questions you need to ensure accurate data capture and database building e.g. name, address, email, telephone number, category of call etc.
Pre-defined Escalation Process
We'll work with you to determine when calls should be escalated, who to pass these calls on to and the process to follow.
Real Time Problem Resolution
We'll answer product or service FAQs communicated to your customers' to your criteria.
Call and Message Forwarding
Messages can be taken on your behalf and forwarded to you using the delivery method of your choice. We can then forward messages to one or more email address or as an SMS text message to pre-defined mobile phones numbers. Calls can also be forwarded to agreed protocols.



Emergency Calls
| | |
| --- | --- |
| | These can come at any time, so it's vital that you are ready and prepared. Having an outsourced answering service support team can ensure that you are always ready in times of disaster and emergency. |
Answer4u's Business Critical Call Centre Services allows your business to continue as normal even when the unthinkable has happened.

Faulty telephone lines, long term power outages and building evacuations are just some of the types of crises our clients have experienced. Crisis management planning for when the unthinkable happens is now an essential part of business life to avoid existing customers' getting concerned or new customers' taking their business elsewhere.

A small set up fee and a cost effective monthly management retainer ensures your business is safe from disruption and meets any regulation compliance. A bespoke crisis communication management solution will be developed to your exact requirements in advance, in readiness of any future crisis response activation. And if you need us, you can activate the disaster recovery service at a moment's notice allowing the business to continue as normal for your customers' whilst the situation is resolved.

Answer4u also offers disaster recovery helpline solutions for larger-scale disaster management. By understanding the different scenarios you need to cover, we will then develop emergency response call centre plans and scripts to give you a turnkey disaster recovery communication plan.
Crisis Preparedness Provides the Peace of Mind Your Business Requires
Answer4u's Business Critical Call Centre Services can help provide you full time assurance of business continuity 24 hours a day, 365 days a year, all at a moment's notice.
Continue giving your customers' the service they expect even during a time of crisis. They will never know there was a problem!
Turnkey Disaster Recovery Plans
Disaster situations that can affect your daily business activities can unfold quickly at without warning. The flexibility to divert your calls to emergency call handlers at a moment's notice is essential to your recovery plans.
No Loss or Disruption of Service to Your Business
In the event of a disaster there is no loss or disruption. We will set up and regularly review custom scripts to include answers to frequently asked questions, protocols for call escalation and an understanding of the needs of your callers. This allows us to be ready when you need us and can start your service immediately.
Avoid Damage to Your Business Reputation
Outsourcing disaster recovery as a service allows your business to continue operating as normal whatever else is happening.
Avoid damage to your business reputation or confidence.


What to look for when you are sourcing a Telephone Answering Service
The provider handles all their own calls
Make sure your provider isn't diverting some or all calls to other companies. This can dramatically reduce the quality and accuracy of the service and can escalate costs. Some providers don't have 24/7 capabilities and may outsource out of hours calls themselves.
Provider has the ability to scale up
Not just in numbers of available agents, but in the type of calls they can handle and process. You may wish to start with a more basic message taking service at the beginning of a relationship, over time as the relationship develops, opportunities and efficiencies to increase your partner's scope of responsibility may become evident. Make sure that your chosen provider has the ability to do that in the future.
Pricing model
Many different pricing models exist in the industry and some can be confusing and costly if not appreciated up front. One frequent 'surprise' can come from a model that charges by agent time but in full minute increments. That may mean paying the same amount for a call lasting 1 minute and 1 second and a call that lasts 2 minutes. If you are sending the provider hundreds, or even thousands of calls this can be an excessive 'overcharge'.
Answer4u can design and execute completely flexible telephone answering services to UK based businesses large and small. With a range of fixed plan and bespoke answering service solutions, it's worth getting in contact to discuss your pain points and how we can find a way to support and add value to your operations.

COULD AN ANSWERING SERVICE
ADD VALUE TO YOUR BUSINESS?
Comment and Get in Touch Below
Actionable business & marketing advice straight to your inbox