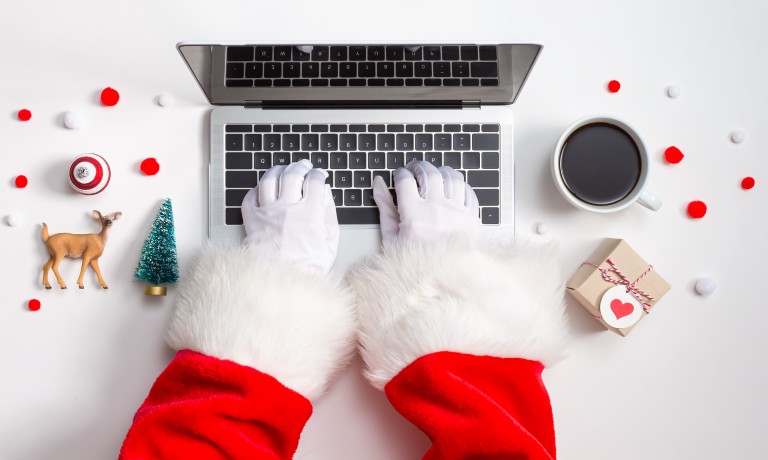 Four Festive Ideas to Market Your Business This Christmas
Christmas is upon us. The most popular holiday in the Western hemisphere spells a season of good tidings, an increase in mulled wine and the arrival of a bearded man who is not only immortal but also the owner of the fastest vehicle known to man. The whereabouts of the vehicle's famous mechanic, Rudolph, remains strictly confidential.


The effect of Christmas permeates both family and professional life. We would never tell you how to celebrate with your loved ones, but for your business, here's four ideas to get the Christmas spirit in your office and ideally out to your audience too!
---
Christmas cards are the formal way of extending a warm tribute to those you know during the festive season. Creating a personalised card from your whole office is a great way to do this, as well as keep your business in everybody's minds!
Sending out cards to your clients is a fantastic way to boost your relationship, as well as promote an appealing brand image that might eventually contribute to referrals and more business.
Check out the Christmas Card we received from our friends at Infinity Call Tracking - an excellent example!

A memorable card is best done with a photograph, such as everybody in white beards, a unique spin on the festive aesthetic (a group struggle to decorate a cactus Christmas tree) or a wondrous exhibition of everybody's great Christmas jumper. Speaking of jumpers…
Nothing quite says "I've submitted to the cheesiest of Christmas traditions," like wearing a knitted, Christmas themed jumper.
With a wide range of hilarious styles, jumpers are a great theme for a seasonal competition, fundraiser or marketing campaign.

Save The Children's annual Christmas Jumper Day fundraiser is a great cause and their website provides a tool so you can donate any money raised quickly and easily. It's also a brilliant event to share on social media and other marketing platforms.

Just remember, there are two tiers of Christmas jumper:

The Conventional, Safe Christmas Jumper


This woolly mammoth is as inoffensive as it is old-school. Its virtues include:

Warming
Acknowledgement that it's Christmas
The Extreme Christmas Jumper

This jumper is designed to push the boundaries of the fabric representation of Christmas.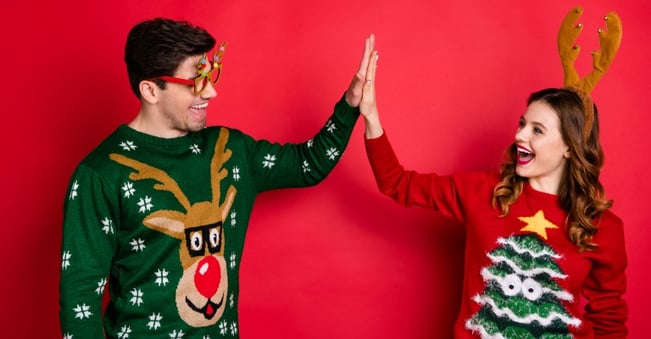 These extreme pieces of attire will turn heads and make people question their own loyalty to Christmas. Use with caution.
Secret Santa – the process of each team member giving a gift to another anonymously – can either be a dose of hilarity, unexpected satisfaction or wry looks. Social media loves secret Santa results, so don't feel shy to post your gifts online.
Aside from perhaps a logistical price limit, secret Santa gifts can be an opportunity to provide a colleague with a much needed tool or toy that'll help them get through their workload. Old Stuart (who refuses to turn the office heating up) with his cold feet? Some warm slippers will sort him right out. Tim from IT with the wrist cramp? An ergonomic wrist support mouse pad. It's a great opportunity to make people's office lives a little easier.
Adding a Christmas touch to your website is not only fun, it's a great way of getting your customers into the Christmas spirit too. It shows respect to your audience in that you recognise your material isn't simply for transactional purposes, as well as showcasing that you too value fun like other humans.
These simple tips will ensure that your employees and your customers get into the festive spirit whilst keeping your business in mind over the winter months. Seasons greetings!
Comment and Get in Touch Below
Actionable business & marketing advice straight to your inbox